Biden condemns Trump as 'climate arsonist' as wildfires burn – as it happened
When Gary Cohn was Donald Trump's top economic adviser, according to Bob Woodwards first Trump book, Fear, he made sure key pieces of paper were removed from the president's desk, lest he enact policies Cohn thought would be catastrophic.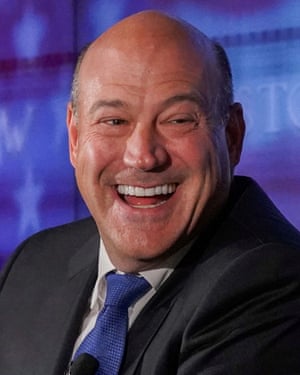 When Trump said there were "very fine people" on both sides of a white nationalist rally in Charlottesville, Virginia at which neo-Nazis chanted "Jews will not replace us" and a counter-protester was murdered, Cohn, who is Jewish, broke with the president and came close to resigning.
When Cohn did quit the Trump White House, he said it was over Trump's love for tariffs which, as a free-trader, he could not support.
Cohn is a Democrat, and the country is less than two months out from a presidential election which the Democratic nominee, Joe Biden, has cast as an existential battle with a "climate arsonist" president.
Cohn has also watched, with the rest of America, more than 190,000 die from a pandemic the president knew was a severe threat, but chose not to tell the country so immediately. He has watched the US economy tank, under the impact of that pandemic.
But Cohn told CNBC today he wasn't sure who he will vote for in November:



"You know, I honestly haven't made up my mind. I'm really eager to see an economic debate between the two of them. I actually vote on issues.

"We have to have a plan to get back to a more normalised fiscal picture, once we normalise and we get back to a normal economy in the United States. And I really do want to hear where the two candidates are. Just taxing to spend doesn't make sense to me. We have to have a plan to get our fiscal house back in order."
Tagged:
2014
2018
2019
2020
Advocacy
Alcohol
America
American
Andrew Gillum
Bay Area
beach
Biden
blog
ca
California
CAST
CDC
Centers for Disease Control and Prevention
change
Children
Circuit
Clear
climate
Climate Change
cnbc
CO
coast
Communications
Congress
coronavirus
Coronavirus outbreak
Corporation
COVID
COVID-19
crisis
Death
decisions
Delaware
Disaster
Disease
Donald Trump
driving
Drought
economy
El Salvador
Elderly
Elections
emissions
Environment
Facebook
facts
family
Female
fire
fires
Florida
forest
Forests
Freedom
Gas
Gay
George W. Bush
georgia
gov
Government
Governor
Greenhouse Gas
Greenhouse gas emissions
Haiti
Health
heat
Historic
History
home
house
how
Humanitarian
ice
Immigration
indoor
Joe Biden
Justice
Las Vegas
Leadership
Legal
levels
Living
Logging
Love
management
Marriage
masks
Media
Medical
minutes
Natural
NATURAL RESOURCES
Nature
Nevada
New York
News
nicaragua
office
OR
Oregon
Other
outages
PANDEMIC
paper
Pennsylvania
People
photo
Photograph
PLEASE
police
police chief
policies
post office
Power
President Trump
Prevention
Public Health
RAN
rate
REALLY
Resources
review
rise
running
Russia
Safety
San Francisco
Science
Sentencing
Shooting
shutdown
sites
Social media
South Dakota
Stage
states
stay
stone
Sudan
temperature
top
Treatment
trump
Trump administration
twitter
United States
US
US economy
US elections 2020
US news
US politics
USPS
Video
Videos
voting
wa
Washington
Washington state
White House
who
wildfire
wildfires
Women
Work
World news
York