SC flooding chief helped defeat federal limits on greenhouse gas emissions – Charleston Post Courier
COLUMBIA — Tom Mullikin was hand-picked by Gov. Henry McMaster last year to defend South Carolina from rising sea levels, persistent flooding and severe storms coming in from the Atlantic.
People in South Carolina's political circles know Mullikin as a world traveler, a professor at Coastal Carolina University and the former leader of the volunteer South Carolina State Guard.
But in the past, Mullikin played a different and less-recognized role: A self-described expert on climate change who helped torpedo efforts to regulate greenhouse gas emissions in the United States.
Mullikin, 59, spent part of his career as an attorney participating in the high-stakes debate over what the country should do about climate change and mankind's responsibility for rising global temperatures.
He published a book labeling the various international agreements on global warming as "failed political gimmicks" that were unfair to the American economy.
He produced documentaries to help counter the messaging on climate change by former Vice President Al Gore, a man he led a statewide presidential campaign for in 1988.
And in 2009, he lobbied Congress to help defeat the last major piece of legislation to seek a reduction in the more than 6.4 billion metric tons of carbon dioxide and other greenhouse gases America pumps into the atmosphere every year.
At the time, Mullikin worked as an attorney with the Charlotte-based law firm Moore & Van Allen. From 2001 to 2011, he represented businesses that would have seen their profits slashed if the United States had taken action to curb climate-altering emissions.
His list of corporate clients, he said, included Nucor Corp., the nation's largest steel manufacturer, and Koch Industries, the massive chemical, petroleum and manufacturing conglomerate owned by prominent Republican benefactors Charles and David Koch.
When he ran for Congress in 2017, he described that work as "combating the radical left's attempt to use environmental hysteria as an excuse to institute global socialism."
Mullikin continues to represent Koch Industries as part of his small legal office in Camden, he said.
"I'm probably the only person to ever receive a paycheck from Al Gore and Charles Koch," Mullikin told The Post and Courier.
But in recent months, he's intentionally avoided dipping back into discussions about global warming. He and the governor are not entertaining conversations about climate change, he said, as part of the new S.C. Floodwater Commission.
"What we are doing in this state is what leadership looks like," Mullikin said.
It's a unique scenario: A man who spent a significant chunk of his professional life fighting over the nation's response to climate change is now responsible for girding South Carolina for the effects of a warming planet.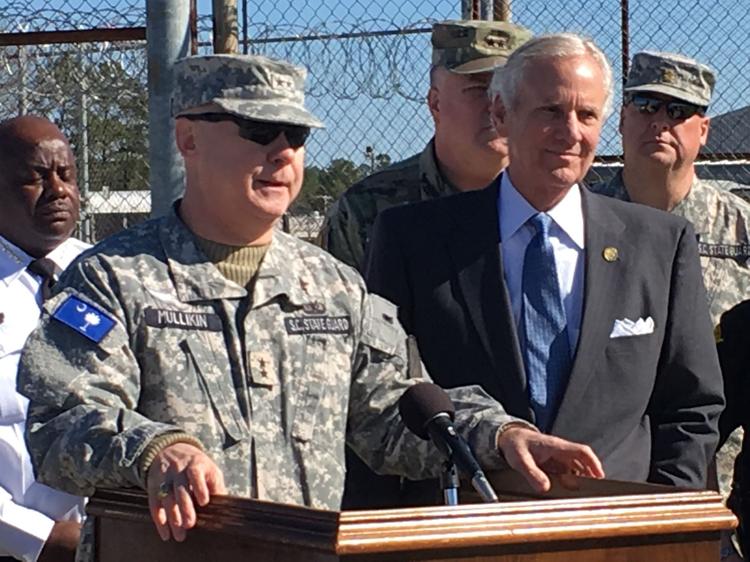 Tom Mullikin, the former leader of the volunteer South Carolina State Guard, is now in charge of preparing the state for the effects of a warming planet. Andrew Brown/Staff
Choking on success
It was the fall of 2009. President Barack Obama was in his first year in office. And Congress was in the throes of debating a bill that would drastically change the nation's response to climate change.
The American Clean Energy and Security Act already passed the U.S. House by a vote of 219 to 212. But the Senate was still considering the so-called cap-and-trade bill, which would have slowly tightened limits on greenhouse gases and set a price on those emissions.
Hundreds of lobbyists descended on Capitol Hill. Some of the most vocal critics of the legislation were the U.S. Chamber of Commerce and the National Association of Manufacturers.
And Mullikin was one of their go-to sources.
"It is my opinion that Mr. Tom Mullikin, a senior environmental attorney with Moore & Van Allen in Charlotte, N.C., is one of the most persuasive and well-cited researchers in this policy area and should be invited to speak to this committee," said Brett Vassey, the CEO of the Virginia Manufacturers Association, as he addressed the Senate's Committee on Environment and Public Works.
Mullikin has no formal scientific training. He graduated from the University of South Carolina with a law degree in 1986. But by 2009, he had made a name for himself among corporations and industry groups interested in fending off taxes and regulations on carbon emissions.
Mullikin had already written his 85-page book criticizing the international climate accords. He'd led expeditions to Antarctica and the Namib Desert in Africa. And he'd gained notoriety for taking on "An Inconvenient Truth," former Vice President Gore's documentary about global warming.
Mullikin was providing "The Whole Truth," according to the title of his second film.
As federal lawmakers drafted the cap-and-trade bill, Mullikin traveled the country to places like Cleveland, Wichita, Duluth and San Antonio denouncing the legislation in front of local chambers of commerce. He also lobbied on behalf of Nucor to help kill the bill, which ended when the Democratic-controlled Senate refused to vote on it.
Mullikin's arguments against the federal carbon regulations focused on one thing: China.
He condemned the fact that China was not expected to curb its emissions as quickly as the United States under the international climate agreements. Its the same reason he supported President Donald Trump's withdrawal from the Paris Climate Agreement in 2017.
Any effort to cut greenhouse gases in the United States, he said, would prompt corporations to shift their factories and pollution to other countries.
"We are choking on the success of China," Mullikin told The Post and Courier.
But even if China agreed to cut its emissions tomorrow, Mullikin doesn't believe Congress should set a cap or tax on greenhouse gases. That's something he and McMaster agree on.
"We don't need any more taxes," McMaster said.
Mullikin is committed to the idea that the corporations releasing millions of tons of carbon dioxide and other greenhouse gases into the atmosphere will voluntarily do something about it — once it becomes profitable for them.
That's yet to happen.
'Hijacked by political conversation'
Mullikin doesn't deny the climate is changing. He concedes the earth is warming. He believes sea levels are rising. And he recognizes those changes could cost South Carolina billions of dollars.
In his book, he referred to climate change as the "battle that we must win."
But he still thinks people can debate the extent to which human beings have contributed to earth's warming climate. He often likes to say the "climate has been changing throughout time."
"If you want to put a fine point on it, the real question is to what extent are man's actions amplifying global climatic change," Mullikin said.
That's not a question climate scientists are struggling over.
"We are responsible for all of the buildup in atmospheric carbon dioxide levels," said Michael Mann, a climatologist and geophysicist who teaches at Penn State University.
Human activity over the past 150 years, Mann said, has increased the concentrations of carbon dioxide in the atmosphere from 280 parts per million to 410 parts per million.
The last major report from the Intergovernmental Panel on Climate Change put it this way: "Human influence on the climate system is clear."
There are natural shifts in the climate, Mann agreed. But humans, he said, are now putting carbon dioxide into the atmosphere a million times faster than any natural geological changes that occurred over the course of earth's history.
Mullikin isn't alone in downplaying the scientific consensus on that point.
A recent Winthrop University poll suggested 22 percent of South Carolinians accept that climate change is real, but don't believe human beings are causing it. And another 39 percent of state residents, the poll found, waffled on the cause, blaming it partly on natural processes.
The reluctance to recognize the human impact on earth's climate was evident during the Republican gubernatorial debate last year, too.
Asked whether he believes in global warming, McMaster explained his concerns about flooding in the Charleston. But he did not provide an explanation for why global temperatures were rising or why 18 of the 19 warmest years in recorded history have occurred since 2001.
"I think it's getting warmer. Whether it fits your definition, I don't know, but it's getting warmer. I know the water is coming up," McMaster said. "Must be something melting somewhere, I guess," he said to laughter.
Mullikin says the debate over climate change has been "hijacked by political conversation." He told the Daily Caller in 2013 there needs to be more emphasis placed on solving the challenges of a changing climate and fewer arguments about the man-made causes.
That would be like a doctor treating someone for lung cancer, Mann said, but ignoring the fact that the patient smoked cigarettes for decades. "It's very difficult to cure a problem when you refuse to acknowledge the cause," he said.
Impeding growth
Over the past four years, Mullikin witnessed South Carolina's problems firsthand as the leader of the State Guard.
He marshaled his volunteer force in response to the storms and hurricanes that battered parts of the state with wind, waves and water. He remembers the names: Joaquin, Matthew, Irma and Florence.
Now, Mullikin is in charge of exploring a long list of ideas to cut down on the millions of dollars in storm damage the state has repeatedly suffered.
Proposals from the new flooding commission include planting more vegetation on the shoreline, building a new man-made lake and constructing an artificial reef along the entire length of South Carolina's 187-mile coast.
To pay for those ambitious projects, Mullikin and his team are eyeing one source in particular: federal tax dollars.
It's only a small part of the public money that's likely to be requested as the nation comes to grips with the effects of rising sea levels, heavier rains, extended droughts and more severe storms.
A report produced last year by 13 federal agencies said America's economy could be harmed if more isn't done to curb emissions. And it estimated that global warming could cost the United States hundreds of billions of dollars in the coming decades.
"Without more significant global greenhouse gas mitigation and regional adaptation efforts, climate change is expected to cause substantial losses to infrastructure and property and impede the rate of economic growth over this century," the report said.
The price tag of raising roads, extending seawalls and upgrading drainage systems in Charleston alone stands at roughly $2 billion, according to city officials.
Those costs are currently being passed to every taxpayer, said former Republican congressman Bob Inglis, when they should be borne by the companies releasing millions of tons heat-trapping gases every year.
Inglis, who represented South Carolina's 4th District, now runs republicEn, a group that is focused on rallying conservative support for policies to address climate change.
As he sees it, the companies profiting off the burning of fossil fuels aren't actually paying for the full cost of releasing carbon dioxide and other greenhouse gases into the atmosphere.
It's a problem with the economics, Inglis said. And the most conservative way to deal with it, he believes, is through setting a tax on carbon.
Mullikin remains a staunch opponent to that type of proposal.
He believes there is too much focus placed on emissions from industrial operations and manufacturers. The cost of taxing every ton of carbon dioxide, he said, would be too great a price for American industry to pay.
"I don't see a carbon tax being part of a global solution," Mullikin said.
But he is no longer preoccupied with that debate. Mullikin's orders from the governor are to address the surging tides, heavier rains and swollen rivers that swamped the Palmetto State in recent years.
"What we're doing is not an effort to solve global climate change," Mullikin said, "but to create strategies to confront a changing climate."
Tagged:
Adaptation
Africa
Al Gore
Amazon
Antarctica
atmosphere
atmospheric carbon dioxide
Bill
burning
carbon
carbon dioxide
carbon emissions
carbon tax
change
China
clean
climate
Climate Change
Congress
cost
Data
Earth
Economic growth
Economics
economy
emissions
Energy
Environment
Environmental
EPA
extent
Film
Flooding
fossil
Fossil fuels
Gas
global
global temperatures
global warming
Governor
Greenhouse Gas
Greenhouse gas emissions
growth
History
industry
influence
Infrastructure
International
IPCC
Law
Leadership
LED
Legal
Legislation
levels
list
Manufacturing
melting
Michael Mann
mitigation
Money
Natural
Obama
office
Other
Paris
Paris climate agreement
People
Pollution
rate
rising
Rivers
roads
security
socialism
states
steel
storm
storms
Tax
Taxes
temperatures
time
TON
United States
virginia
warming
warming planet
water
Wind
Work
World
YouTube